Our family-owned and operated business has been providing professional vacation rental services since 2004. Our newest addition, Villa Kallisti, was built in 2017.
We are dedicated to offering our guests a private and stress-free holiday experience at our serene and exotic location. Our business consists of a complex of three private villas: Villa Afrodite, Villa Eleni, and Villa Kallisti.
The names of our villas were inspired by the most beautiful women of ancient Greek mythology: Afrodite, the goddess of beauty; Eleni, whose name became synonymous with the Trojan War; and Kallisti, meaning "the most beautiful of all."
We look forward to welcoming you to our villas and sharing the experience of an unforgettable vacation with you.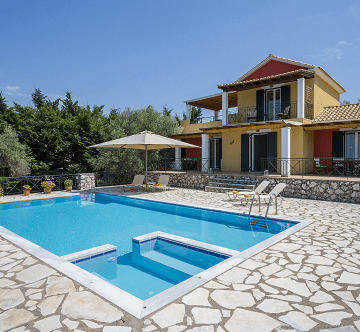 Irish Sr
11:40 04 Apr 23
It was a unique experience visiting Villa Aphrodite .It is located next to a small village where you can find almost everything. The view from the balcony and the pool is stunning, the endless blue of the sea combined to the green islands create a perfect canvas. The house it was really clear and comfortable with a big private barbeque which we enjoyed. Also the host was so friendly and helpfull providing us everything that we needed.

Mixalis Vassiliadis
16:01 30 Jan 21
Great view from the upper balcony, beautiful place in a quiet village
Use of this site constitutes acceptance of our Privacy Policy. | M.H.T.E. : 0831K91000514301 & 0831K10TK4618000
Copyright © 2023 Meganisi Private Villas